So, over a year has passed since my last post and so much has changed not only in the world during this time but also in my teaching career. 2020 brought us lock downs, home schooling and uncertainty. It also brought me a period of time in which my Writer's Workshop floor books took a back seat to my Maths floor books. I felt torn between my two mentors, Lisa Burman and Lisa Jane O'Connor and my new love of Maths verses my first love of Bookmaking 🤣. Writer's Workshop had been my safe place for so long that it was timely that it was Maths' turn to get a look in. I must have done okay on my Maths journey as I was awarded the Primary Mathematics Association Pam Meredith Award for outstanding reflective writing and my class won the state award in the class category for the documentation of 'Our Mathematics Learning'. As proud as I am for this achievement it came at the cost of my beautiful Writing floor books.
No matter what subject area, I have found my floor books to be a valuable resource for my teaching. Lots of time goes into copying photos, work samples as well as recording and transcribing conversations that are then included in my floor books. The more up to date the floor book the better. They are great to be able to use with the children as revision of what we have learnt or discussed in the mini lesson before or to build on with the next concept or nudge. Whether it be English or Mathematics the concept is entirely the same. I have also found the more images you put in of the children and their work samples the more they become connected to the reading of the floor book and the learning that it is representing. Last year I would constantly be asked, 'could you take a photo of this for the floor book' or when taking photos, 'will that be in the floor book?'.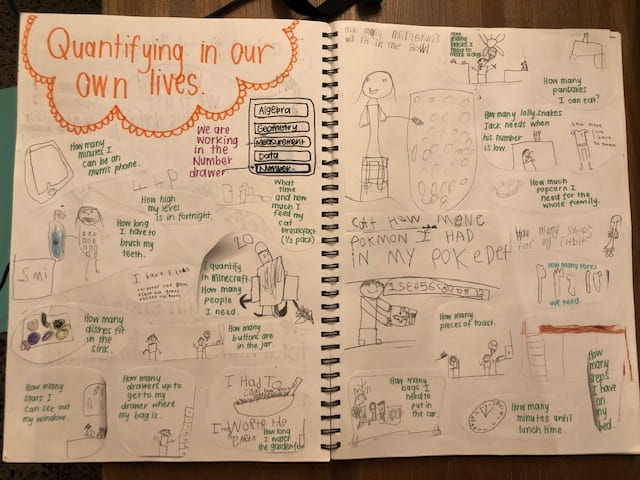 During 2020 I had year 1s, 2s and 3s in my group and it was the first time I had dabbled in Writer's Notebook. Having been a Bookmaking lover for so long, I was sure that this Notebooking gig was going to be a piece of cake. It was for some… but not others… The Bookmakers in my group tended to be mainly the year 1s and year 2s. They still had a love for illustrations and for some, they were still embarking on their writing journey. Most of my year 3s and a couple of year 2s were hungry for something more. They wanted to write more than they wanted to illustrate and they needed a new challenge. As I was inexperienced in Notebooking, I had many a conversations with experienced teachers at my site about the right approach for this and my colleague Cassia, was kind enough to share her Writer's Notebook with me. As with Bookmaking we make books with the children to use as mentor texts, we also need to have our own Writer's Notebook to share with the children and use as a teaching tool.
During Writer's Workshop lessons, children in my class could choose between writing in their Notebook if they had one or making a Bookmaking book. The kids knew, just because you had a Notebook you didn't have to use it all the time. It was okay to interchange between the two mediums and the mini lessons within our spotlight studies allowed for this to happen. On top of our regular Writer's Workshop time, I was offering those children with Notebooks 2 extra 30min lessons a week in which we solely wrote in our Notebook. I called this 'Notebook Club' and initially our first objective was to build writing stamina. This was achieved through continuing writing within their Notebook of their own choice and regular quick writes, in which children were given a very broad topic or image to write about. However as the year progressed Notebook club was also used to practise our typing skills to publish writing from our Notebooks on the schools' Chrome Books.
Fast forward to 2021 and already so much has changed. At the beginning of the school year, I resigned from the Department for Education after 16 years as a public school teacher and jumped at the opportunity to be part of an amazing group of educators who started a new independent school from scratch. Fortunately, both mentors, Lisa Burman and Lisa Jane O'Connor have come along for the ride, so I will continue to find myself trying to find the balance between English and Maths.
This year I have year 3s and 4s. It has been quite a while since I have taught this age group, but in saying this there are a large number of learners within this group that I have taught before and I have great relationships with. In some ways, I am ahead of the game because I know who lots of these kids are as learners already.
I started the year thinking that I would have a mix of kids using Notebooks and doing Bookmaking. Having this thought in the back of my mind, I bought plastic pockets for all of my children to store their Bookmaking in, as well as supplying every child with a blank exercise book for their ideas. I then bought enough Writer's Notebooks for about half of my class. Now after 3 weeks of school, I am wanting to start again! I wish I did things differently! Argh!
Our first lesson of writing I called Bookmaking. We spent time talking about authors. Who they are and what they do. Thankfully many of my children already identified themselves as an author! Hooray! I then gave every child their ideas book and asked them to brainstorm things about themselves. Once they had done this they received a blank Bookmaking book and I asked them to make a book about themselves.
I'm not sure to be honest if I have given children a topic to write about for their first book before, however, I decided it was important at this point to establish who we were and it gave me extra insight into those children that were new in my care. This book will also become my base line data to measure writing growth as the year progresses. We continued to work on these books over the coming weeks as well as having mini lessons around the features of books, conferencing and working in our ideas books to make lists of things we liked and disliked. I had discussions with the children that some of them would receive a Notebook to write in this year and some children were very pleased to hear this as they had one in the past.
After the children finished their 'All About Me' books, some children were given Notebooks as they asked and I could see that they were ready for them. I soon ran out of Notebooks and this is when things became a little messy. Some children who didn't receive a Notebook really needed one and others who probably really needed one to nudge their writing to the next level refused to have one. Handing out of the 'Bookmaking' folders became a messy time, with these being stored in a different place to the Notebooks and children handing out folders that were not needed began to make a huge messy pile of folders on the floor as Writer's Notebooks were the preferred medium.
I went home and tried to work out how to make this more efficient… I decided that instead of an ideas book, I really should have given all children a Notebook as the things they had been recording in their ideas books could have easily been recorded in their Notebooks as 'quick writes' as well as the plastic pocket they already received to store any Bookmaking books that they choose to make or work on. Of course as I decided this would have been the better way to operate we tried getting more Notebooks the same as the ones I had already from our stationery supplier and of course they didn't have any in stock. So I will have to try hit the shops tomorrow. I am then thinking I might remove the couple of entries we have started in our ideas book and glue into our Notebooks. I don't know if this is the best thing to do, but at least then there is some element of sameness. Especially as the ideas book has become a bit unnecessary for the Notebookers.
On another note, these are the Notebooks I bought initially for my kids, and I'm just not sure of the longevity of them. I've already had a couple of kids have some pages begin to tare out as they have been a bit heavy with them. I think in the future, something with a sturdier spine would be a better option. Let me know what Notebooks you use with your class? I think I regret buying these ones…
Happy Writing,
❤ Julie