Getting Organised
The last two weeks feel like a blur and the list of things to do seems to be getting longer and longer. One of the first things on my list was to get my conferencing folder set up for when I begin Writer's Workshop this week.
Last year I used a ring bound folder with tabs. Each student had their own tab and section where I recorded notes on lined paper about their books when I conferenced with them. For those students who's books were wordless I used this to scribe their book as they read the pictures and for those who had words in their books, I used this folder to record current strengths and strategies to work on.
I decided that this folder seemed to be quite big and bulky so this year I have opted to use a display folder. I have kept the tabs so each student still has a pocket and an area for me to keep notes.
Marcia, Danni and I decided that this year we would use a template rather than blank paper to record our notes. This actually stemmed from a fabulous idea that one of our student teachers (Tiffany) initiated last year on her placement. We like this format as it gives us a clearer idea at a quick glance about how many books the students have made and shows us an overview of the student's strategies.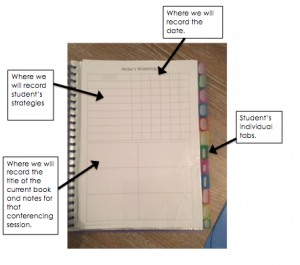 The other thing that I have put in our folder is a schedule. This ensures we have focus students for each day and that in theory all students will be seen each week. We began doing this towards the end of last year as we were finding we were seeing the same students all the time and unfortunately some students were slipping through and not being seen at all. As I work part time, it also gave us a clearer picture of who was conferencing with who.