Finishing Term 1
Last time I logged into my blog I had so much to share that I needed to share in two parts. I shared part one and had good intentions of blogging more in the following days… Needless to say the busy-ness of finishing term 1 took over so here we are almost at the end of the holidays writing the next part of our journey.
After introducing our Author of the Month for March – Lynley Dodd, it was natural to talk to the students about her Hairy Maclary books being part of a series. We also took this opportunity to share that a student in Marcia's class had also begun writing their own series of books using the same characters and these were available to read in Marcia's room.
One of our students had a Hairy Maclary book of his own at home with a collection of stories that he kindly brought into school to share with our class. We noticed in his "Hairy Maclary Treasury" book there was a contents page. Together we discovered this listed all the stories in the book and what page we needed to turn to, to find them.
As Lynley Dodd uses ellipsis in some of her stories, our next mini lesson talked about ellipsis being 3 dots in a row to show that a sentence is not finished. We discovered that the page needs to be turned to find out what happens next in the story. We have noticed since talking about ellipsis the students are noticing them more in published texts and they are making good attempts at adding them into their own writing.
Our next mini lesson focused on writing goals and strategy cards. The fabulous Danni made these amazing strategy cards (that you can purchase on TeachersPayTeachers here… https://www.teacherspayteachers.com/Product/Writers-Workshop-Strategy-Cards-2964210 ) that we were giving out as we were conferencing with students. We wanted to make sure we all had the same understanding around them hence the mini lesson. Danni explained during her mini lesson that goals are the things we want to get better at and we set writing goals to help us get better at writing. Danni showed the students Tri's writing goals and explained that they will all have writing goals strategy cards to help remind them what they need to continue to work on. Danni showed the students that these would be kept on a small ring and more strategy cards would be added as the students needed them.  She told the students that these will kept along with their current bookmaking and alphabet sound chart in their writer's workshop plastic pocket.
The power of three was our next mini lesson. I am slowly continuing to write my book – "The Walking Hotdog" and I completed another couple of pages in this book to show this text feature. I have found the students really love it when you show them that you are a writer too and were excited when I brought my book out. I explained to the students that the power of three is when a word or an image is repeated three times to help emphasise the word. I asked the students to tap their nose when they noticed this in my book. I then read the students the pages in my book I had already completed before the lesson and the students tapped their noses when I got to that part. The next day to recap, Marcia read the book "Banjo and Ruby Red" by Libby Gleeson to further reinforce that the power of three can be shown through both words and pictures.
Our last formal mini lesson for the term was around BIG and BOLD. This was a term we had been using throughout the term anyway but had yet to do a formal lesson around it. We used Aaron Blabey's "Pig the Pug" as our shared text for this concept and the students were able to explain that authors use big and bold when they want something to stand out or when the character is shouting as Pig does throughout the story.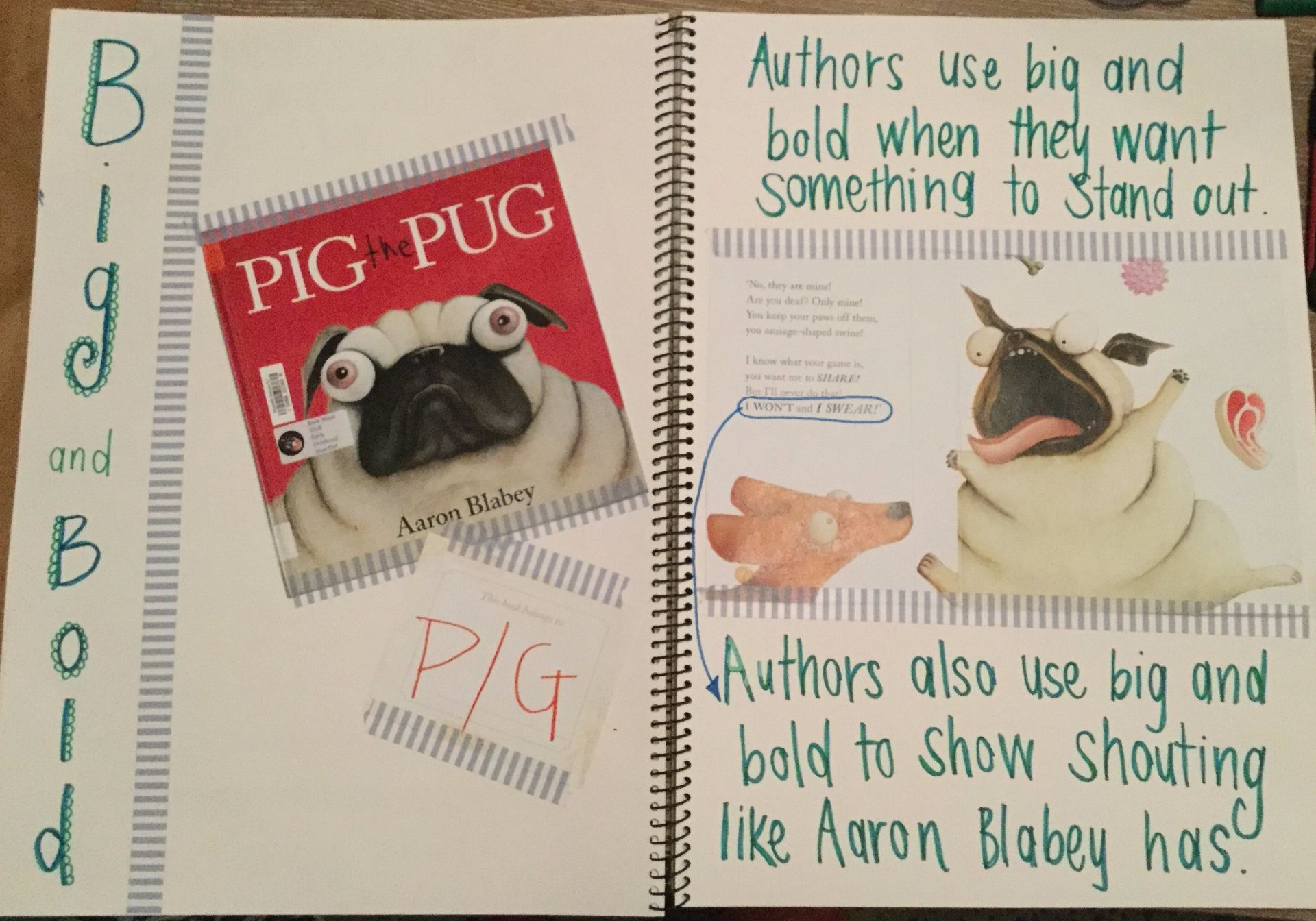 Throughout the term in between our formal mini lessons we shared stories and recapped on the main points of our mini lessons. We also reread our class journal. This has become the record of our learning and the working document of all of our mini lessons. Some days we would randomly flip it open and ask the students if they could show us the skill that was on that particular page in their own bookmaking. Other days we would go back and read the whole journal. Our class journal is always on display in our classroom and the students are able to access it if they feel the need.
Until next time.
Julie