Our Writer's Workshop Journal
Danni and I have a A3 floor book in our class that documents our mini lessons and is available on our bookshelf for students to browse through if they feel the need. We use our journal to record new mini lesson concepts and also to review mini lessons from the past. We began the year recording these lessons with enthusiasm and now as I look back through, I feel that we have "forgotten" to record some of our learning experiences. Nonetheless, we have pages in there that we haven't shared yet so here goes.
We began term 2 with yet another author study. Julia Donaldson was our author for the month of May. We began this lesson by exploring Julia Donaldson books and sharing what we noticed.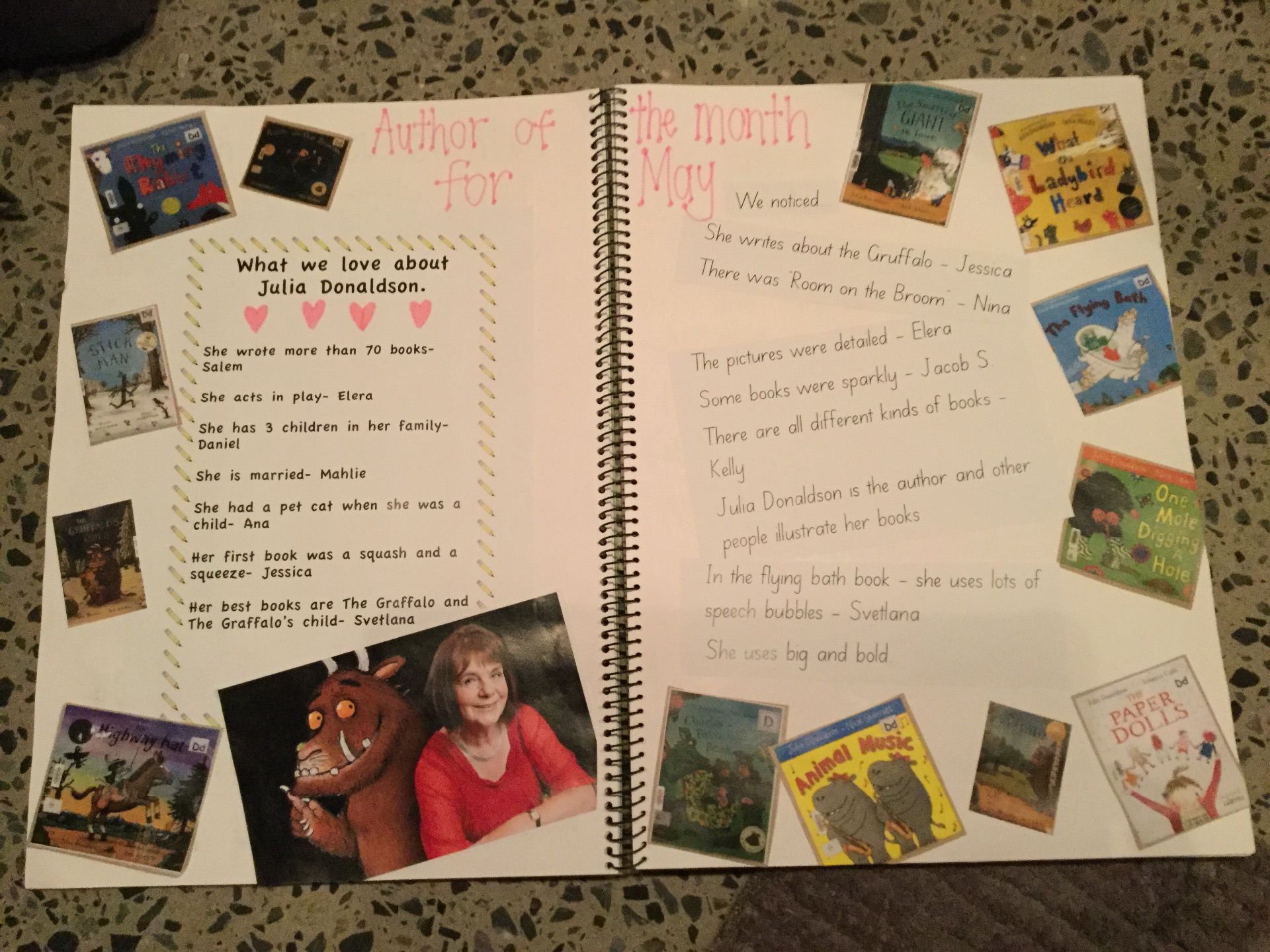 Onomatopoeia was one of our next mini lessons. I read Julia Donaldson's book "The Flying Bath" and explained to the students when authors use sound words in their writing such as "splish, splosh!", "thump, thump!" and "sprinkle, sprinkle" this is called onomatopoeia. We practiced saying the word and I encouraged students to have a go in their own books.
The students noticings lead us to our next minilesson. Some students noticed that some of the books we had been reading had writing on the back. I explained to the students that this was called the blurb and its job is to tell the reader what the story is going to be about. We then explored some of the books we had been reading lately and noticed that some blurbs also had matching pictures near them. Some students then mimicked what they had noticed and practiced this feature in their own book.
We had noticed some of our students had been attempting to add speech into their bookmaking so Danni facilitated the next mini lesson with a focus on speech bubbles in stories. Alison Lester's "I'm Green and I'm Grumpy" is a fantastic text to explore this feature and since exploring this mini lesson we have noticed students using this feature with increasing accuracy to help add more detail to their stories.
Our next mini lesson stemmed from a teaching point that came out of a conference with one of my girls. I noticed that this student was only writing one or two simple sentences per page but was quite competent in being able to write more. I showed her in our conference how to add more information into her sentences to create heavy sentences by modelling in my own book. After doing so, I asked her to try and make some of her sentences heavy. She went away and immediately added more information to every page, creating heavy sentences and a story that had much more substance. I was so proud of her! I asked her if she would be happy to share her book with the class at the end of the session and she agreed. When sharing I asked her to read her book how she had first written it and then asked her to read it with the changes. I asked the students which version they thought was better. Everyone agreed that the book sounded better with the heavy sentences. The next day we revisited the concept of heavy sentences and I used my book "Turtle's Party" as the simulus. Before our lesson I had written some pretty basic sentences into my book and then asked the students what could I add in to make it sound better. I then used a texta to edit my writing to create heavy sentences with the student's help.
When writing our reports last term we noticed as part of the Australian curriculum, students in year one need to understand the terms characters and setting. We use these terms regularly but admittedly had not specifically taught these terms. We thought for this mini lesson we would stray away from our author study and used the traditional story "Goldilocks and the Three Bears".  Since teaching this mini lesson we make a conscious attempts to add discussion around charaters and setting when reading other books.
Alison Lester was our new author of the month for June and we began this author study as we have others throughout the year. We spent time exploring, reading and noticing her books. We then brainstormed our noticings.
Capital letters and full stops was our next mini lesson. This is something we discuss and model at least weekly in Word Work and are constantly "reminding" students to use them. (Which as Matt Glover says is totally ineffective). We have seen some transfer of knowledge around the correct use of full stops and capitals from Word Work to Writer's Workshop but thought it wouldn't hurt to run some mini lessons around these conventions. Marcia did this by writing a passage with no capitals or full stops on the white board and demonstrating how to add these in. The next day we repeated this same activity in our mini lesson but this time using the next pages in my book "Turtle's Party". We now encourage students to use an editing pen to add in capital letters and full stops when they have finished writing their books.
I have lots more to tell you, but that's all for today! Sorry it's been so long between posts! Hopefully I'll be in touch again very soon.
Happy Writing!
Julie